Local artists, technologists, civic activists and interdisciplinary art groups were asked to explore some of the universal questions on the minds of today's residents and bring them to life in the form of 3D installations and immersive, artistic concepts. The result is a curated exhibit that spans three floors and offers 28 glimpses of what may become of Seattle.
Experience a maze of interdisciplinary art, including new media and interactive technologies — provoking humor, hope and terror. You and your friends will walk away with a whole lot to talk about.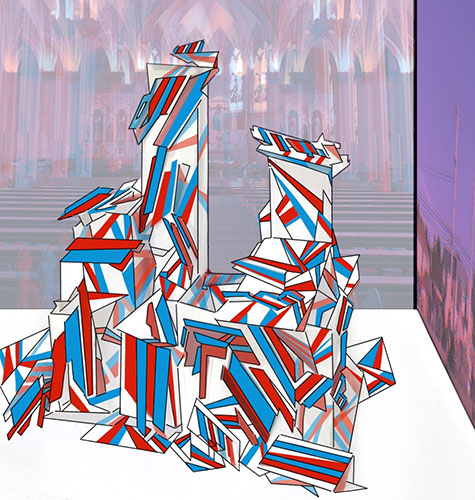 This ticketed event taps into Seattle's thirst for new technology and immersive storytelling, filling three floors of interstitial space with inflatables, sculptures, projection, robotics, murals, textiles, a motion-activated light show, staged displays, gaming components, mapping software, postering, a voting booth, sound signals, and more.
Participating Artists and Art Groups Include
Bailey Ambrose Heller :: Ben Flaster :: Brandon Traynoff :: Carolyn Hitt :: Casey Curran :: Chain Plate (Chan Plett) :: COLE & DAVIES (Maryann B. Cole & Dylan M.R. Davis) :: Duane Georges :: FRAMEWORK CULTURAL PLACEMAKING :: FUTURE WTCH (Jordan Christianson, Anouk Rawkson & Kerstin Graudins) :: Griff Tucker :: GROUP 6 (Nichol Devoy) :: Heidi Grace Acuña :: J. Adam Brinson :: Jean Bradbury :: Jeffrey Larson :: Jeremy Rise :: Joseph Gray :: Josh Lind :: Julie Conway :: Mary Anne Carter :: MIRROR MAZE CIRCLE (Hann Chebeleu, Emma Siple, & Carmen Woodson) :: Nathan DiPietro :: Ray Song :: Ruben David Rodriguez :: SEATTLE DESIGN NERDs :: Sepia Katsoolis :: Sylwia Tur :: TOTALLY LEGIT (David Hull, James Robinson, Shelly Farnham, Andrew Cole, Jeff Brice, & more)