Seattle City of the Future satisfies Seattle's thirst for new technology and immersive storytelling, filling three floors of interstitial space with inflatables, sculptures, projection, robotics, murals, textiles, a motion-activated light show, staged displays, gaming components, mapping software, postering, a voting booth, sound signals, and more.
Ticket holders are invited to roam freely through a Labyrinth of installations and immersive experiences, which include visions of psychedelic wildlife, a world of transgender assimilation, ecologic wonders, a new language of communication, an AI dystopian alleyway, transformational cityscapes, an honest-to-God robot, and twenty-one more possible pathways of what-may-come.
To manage capacity, tickets are sold in one hour chunks. Please arrive at any time in that hour and enjoy the experience as long as you like.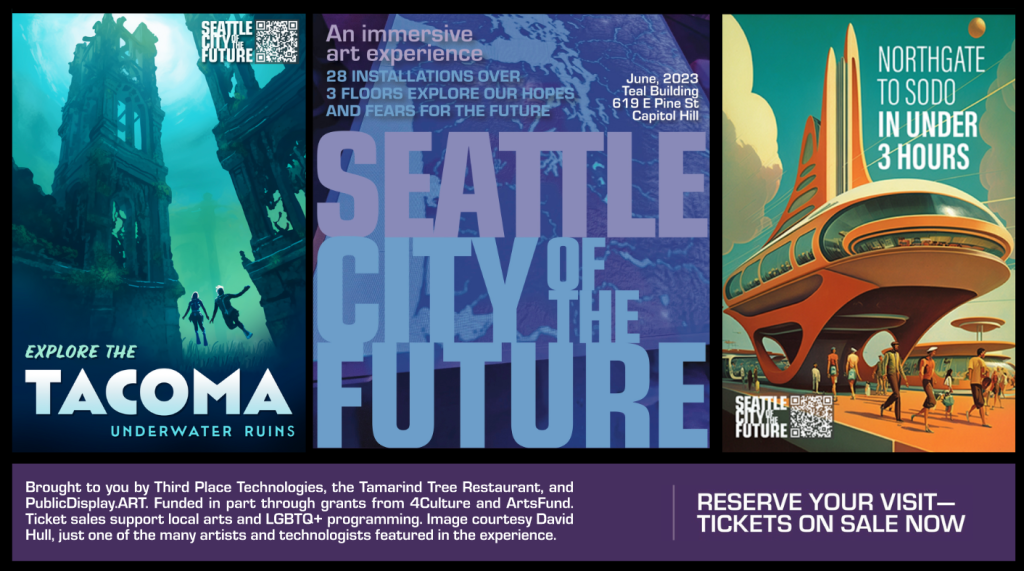 Hours:
Wednesday 5-9pm ($10)
Thursday 5-9pm ($15)
Friday 5-11pm ($25) 21+ after 9pm
Saturday 5-11pm ($25) 21+ after 9pm
Sunday 4-8pm ($15)
Kids under 18 are free, and no tickets are required. However, we are not totally childproof so they must be supervised at all times by an adult. After 9pm is 21+.
Interested in our Our Big Gay Soiree & Closing Night Party, brought to you by PublicDisplay.Art?
Get tickets at: https://publicdisplay.art/tickets